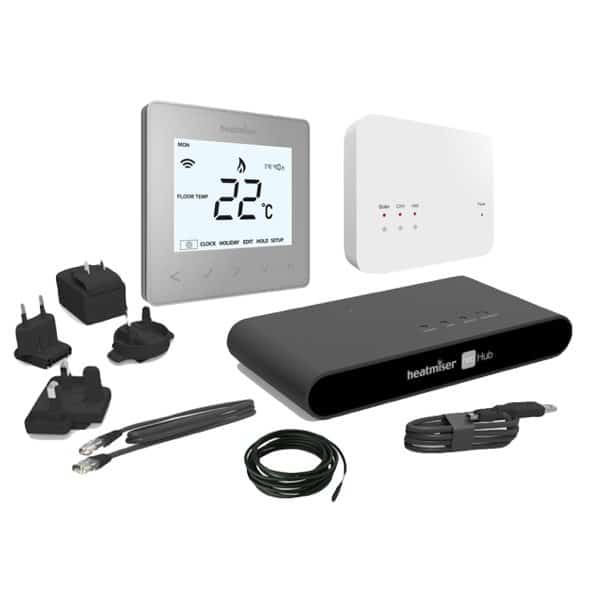 Heatmiser neoAir Kit – Platinum Silver
In Stock
The Heatmiser neoAir Kit includes a neoAir, RF Switch and neoHub allowing you to take control of your heating and hot water from anywhere.
Once the RF Switch has been connected to your boiler, and the neoAir has been paired to the RF Switch and neoHub, you can control your heating system from your iOS, Android or Windows Phone.
neoStat and neoAir communicate wirelessly to the neoHub to offer a reliable and scalable network system that you can control from your SmartPhone. The mains powered neoStat automatically repeats the data signal from other neoStat/neoAir in the home. If there are no neoStat's installed, the neoAir communicates directly with the neoHub and so the neoPlug or Boost can be used to extend the communication distance.
Neo App Recipes – Exciting New Feature (iPhone & iPad Only)
Recipes on Neo allow you to setup a series of actions that you can run at the touch of a button. You could for example set an early night recipe, that will turn all the heating zones down in temperature. Or you could set a Summer Recipe to turn your heating off but leave your hot water to run as normal. What you program is down to you but we are sure you're to love this new feature and what's more, all of your recipes and can be activated from your Apple Watch!
Requirements
neoAir: The neoAir is battery powered, and is designed to work with the RF Switch (supplied in the neoAir Kit) or the UH8-RF 8 Zone Wiring Centre.
neoHub: The neoHub requires a DHCP compatible broadband router.
SmartPhone App: You will need an iOS8+, Android 4+ or Windows Phone 8+ *
Heatmiser neoAir
download manual
download datasheet
---
Heatmiser RF Switch
download Manual
download Datasheet
---
Heatmiser neoHub
Flexible Programming: 5/2 is perfect for people who have different weekday/weekend schedules. 7 day is great for people with different schedules each day. 24 hour mode provides the same temperature settings for every day which is ideal for people who are home most days.
Comfortable Temperature: 4 Comfort levels per day – for example, home warm when you wake, cooler while you're at work, warm in the evening whilst you relax and rcooler again throughout the night while you sleep.
Easy Away – The easy Away feature allows you to switch your home heating off from anywhere. Even in Away mode, your neoStat will continue to provide frost protection in your home.
Convenient Profiles – Forget about re-programming your comfort levels every time you want to change them. Set up a selection of profiles and you can activate them at any time from the app. Great for when your schedule changes!
Always Updated – Your neoHub automatically downloads all new feature enhancements and bug fixes while automatically updating all of your neoStats.
Clock Sync – Your neoHub will obtain the time from the internet and will automatically correct your neoStats based on your location.
Published API – The published API allows third party developers to integrate with the Heatmiser Cloud Server.
Delivery costs to UK mainland…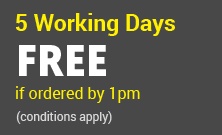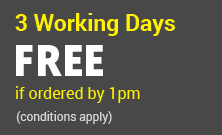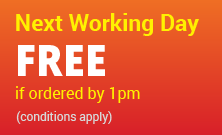 Europe, Eire & Channel Islands: variable, please contact us for an exact price.
For more details read our Delivery Information page »
Only logged in customers who have purchased this product may leave a review.