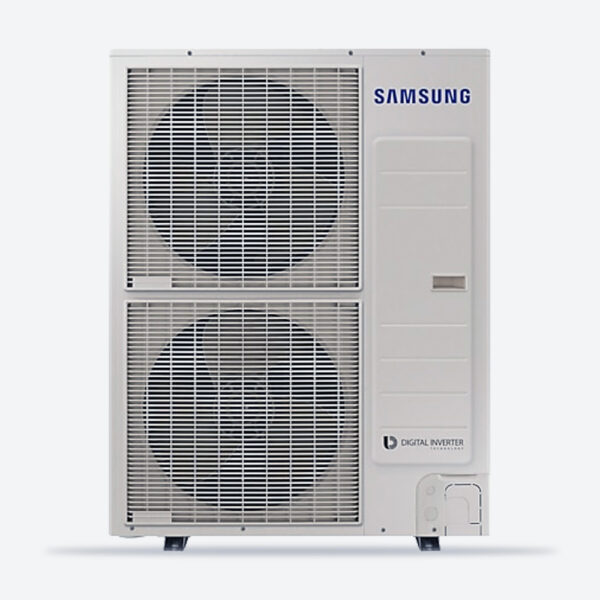 Samsung 16kW R32 Air Source Heat Pump
In Stock
Samsung Monobloc Air Source Heat Pumps
The Samsung Mono 16kW G6 R32 air source heat pump is the latest model by Samsung able to produce hot water up to 60 degrees C.
Samsung Air Source Heat Pumps are an energy-efficient system that use the heat from the ambient air for heating and hot water. By using the ambient air and transferring this heat into the house through a hydronic system, such as underfloor heating, a heat pump requires less power input and offers greater power output than conventional boilers.
Samsung air source heat pumps come with a standard 2 year warranty which can be extended to 7 years if the install is carried out and commissioned by a Samsung trained installer (MCS is not a pre-requisite for this) in accordance with Samsung installation manuals. Warranty is also subject to annual servicing.
Install Kit Contents (optional)
Anti-Vibration Fix-It Foot Kit 600mm
1″ Y Pattern Strainer with Isolation
x2 28mm Iso Valve (Red)
x2 28mm Braided Hose, 750mm
20L Concentrate HP Fluid
12L Robokit Sealed System Kit + Br
---
What are the benefits air source heat pumps?
Heat your home using free energy from the outside air
The Samsung R32 heating system utilises Heat Pump technology to use the heat energy from the ambient air, which is a free and renewable energy source, for low cost heating and hot water production.
Efficient heating
An efficient Heat Pump system provides efficient heating and domestic hot water throughout the year, even in ambient temperatures of -25°C.
Compact installation
The R32 Mono system utilises an outdoor unit, which combines the refrigerant and water circuits, removing the need for internal installation space. The compact size and low noise level of the outdoor unit provides an unobtrusive solution for domestic applications.
Hybrid capability
Available in a range of 4 outputs to suit most applications, the R32 Mono system includes flexible control options and Hybrid capability, whereby the system can be used in conjunction with Solar and/or Boiler installations.
Simple operation
The simple to operate, sophisticated controller is designed to maximise the use of renewable energy for even greater running cost savings, especially when compared to inefficient oil, gas or electric heating systems.
Samsung G6 Air Source Heat Pump Sales Brochure
Samsung G6 Air Source Heat Pump Installation Manual
---
Typical heat pump installation setup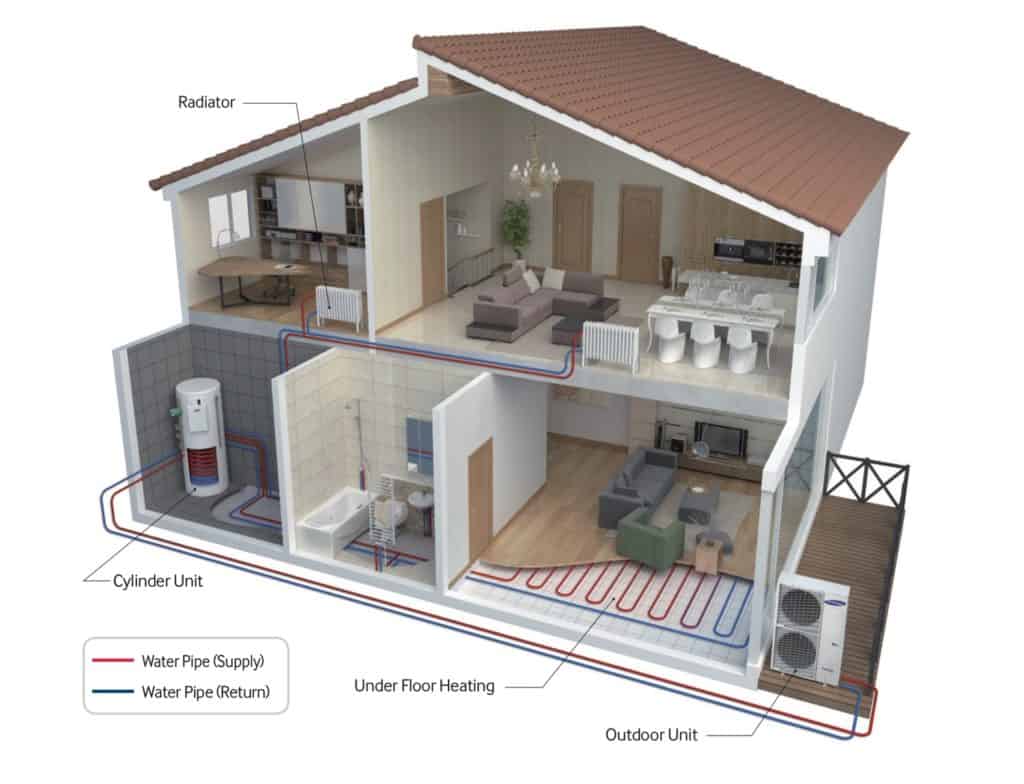 Samsung 16kW Monobloc Air Source Heat Pump
▪ SCOP: Best on MCS Database – 4.42
▪ 65°C Hot Water
▪ <52DbdB – Quietest System on the Market
▪ 16Kw Outputs
▪ Low GWP Refrigerant – R32
▪ RHI eligible (subject to conditions)
Outdoor Unit
▪ Dimensions HxWxD (mm): 1420 x 940 x 330
▪ Sound Pressure Level at 1m: 52 dBA
▪ ErP: A+++ (35°C)
▪ Breaker: 32 Amp
▪ Recommended Pipe Size: 28mm
▪ Nominal Flow Rate: 25L/min
Call Our Team: 0333 939 7949
Mon-Fri: 9am-5pm