What is Underfloor Heating?
Underfloor heating has been around since the Roman times but still remains a relatively new addition to homes and as more people have become aware of the importance of being energy efficient, it is becoming increasingly more popular with homeowners. It is a form of central heating and can help achieve a well evenly distributed heat throughout a home. Underfloor heating systems are also known as radiant heating and are made up of two systems.
Water Underfloor Heating
The first is the wet underfloor heating system, also known as a hydronic system, and it can sit beneath stone, tile, wooden, laminate and carpeted floor. This system consists of a series of pipes which are laid beneath the floor and are connected to the boiler which allows the circulation of warm water in order to heat the area. For water underfloor heating to be fitted there has to be enough space for the pipes to be laid beneath the flooring. Depending on the amount of space available and the floor, the pipes will be set either into concrete screed which is usual for ground floors, heat diffuser plates across on timber joists or grooved insulation panels for floating floors. If there is insufficient space there may be a need for the floor to be raised. This why the water system is being introduced in more and more new builds as the floor can be designed so that the pipework can be fitted successfully without any additional work taking place. Depending on the flooring, the responsiveness of the system or warm up time can vary but it will still work efficiently and will heat up the area that is required. Although a warm water system can be fitted by almost anyone confident in DIY, it does require some technical knowledge in plumbing and electrics when it comes to making the connections to the boiler and thermostats that are recommended to be done by a specialist.
Electric Underfloor Heating
The second system available is the electric underfloor heating system and it consists of a number of electric wires installed beneath the floor or within the flooring. The size of the room and the type of flooring will determine which electric system is used. The options here are loose fitting wiring which is flexible and aimed at small awkward spaces, there are electric cable systems and heating mats which are rolled out to cover larger areas. This system works by laying sheets of cables underneath the existing flooring but on top of a screed which is covered with floor insulation to ensure that the heat travels into the room rather than away from it. To fit this system a qualified electrician will have to connect the system up to the electric mains supply and fit a sensor that will connect to the thermostat. This will enable the owner to be in total control of temperature and the system can be programmed so that it can be switched on and off at a pre-set time.
The Benefits of Underfloor Heating vs Radiators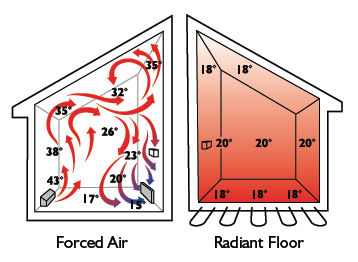 Underfloor heating does offer many benefits in comparison to using radiators. To begin with, the heat that is emitted from underfloor heating is distributed around the room more evenly and the hydronic system uses water that is heated to a lower temperature which makes the system more efficient and cheaper to run. The average underfloor heating system can save the owner up to 40% in comparison to the costs of running a radiator system and it is cheaper to purchase and install when incorporated into a new build property. From an aesthetic point of view radiators can look ugly and out of place, but with an underfloor heating system everything is hidden plus space is gained where radiators would have been situated. The systems offer comfort and a higher level of hygiene. The comfort comes from the system's ability to evenly distribute heat ensuring that there are no cold spots. From a hygiene perspective, radiators leave the air full of moisture which are good grounds for dust mites to breed, underfloor heating causes less moisture, making the environment less friendly for mites and more friendly for asthmatics.
Health and Safety Benefits
If an underfloor heating system is run so that the floor surface temperature goes above 29° C then there is a greater chance of thrombosis, but there is never any danger of being burnt on a high temperature surface. With wet radiator systems the radiator surface temperature is the same as the circulating heated water.
This can be as high as 80-85°C, but lower surface temperature radiators are available which protect the room users from contact with such high temperature surfaces. The fact that there is much lower air movement with underfloor heating systems means the resultant effect on dust distribution around the room is dramatically reduced to almost zero.
This can be very important for people who have some of the more common dust allergies. Underfloor heating also has the major advantage of depriving the common dust mite of the one thing it needs to survive – "moisture". Without moisture the house dust mite will simply dies. Underfloor heating maintains a much higher relative temperature in carpets and consequently reduces the amount of moisture available.
Read more about our range of market leading underfloor heating products and systems.
Which Underfloor Heating System Should You Choose?
Electric underfloor heating and warm water underfloor heating are two very different heating systems that serve the same purpose in different ways. The two systems available are both equally as adequate when it comes to delivering the heat required in the building that it is situated in. Both underfloor heating systems can be used to heat the whole house or just one room and this is what makes it difficult to choose. The total floor area that needs heating is one of the main things to consider and as a rule electric is advised for smaller areas while warm water systems are far more suitable for larger areas.
The electric underfloor heating system is known to be slightly cheaper and faster to install than wet underfloor heating. As the electronic systems are thin they are easy to fit into existing builds and do not require much renovation work in order to install. If it is a relatively small area that needs heating, an electric underfloor heating system is generally the option to choose but that does not mean that a wet underfloor heating system is inadequate. There are many factors that will determine which option to choose.
The wet underfloor heating system requires more space underneath the flooring so that the pipework can be laid as required. This would cause issues with a lot of properties as it would necessitate additional work to be carried out, this is why water underfloor heating systems are preferred over electric systems in new builds as the floors can be designed to work around the heating system. Not only does the water system heat up a room it can be configured to cool a room during hot summer months, something that the electric system cannot do. This system is more expensive to fit than an electric system but in the long run money will be saved and the system is significantly more efficient than radiators.
Ultimately, the choice is down to the customer and whether they want to choose electric or water will be based on their situation and how much they want to spend. It would be wise to understand which system will save the most money in the longer term and this can be done by speaking to specialists who will have an excellent knowledge on the systems.
Bespoke Underfloor Heating
Installing underfloor heating into your home isn't as straightforward as a radiator system, whose only real demand is that the radiator is sufficiently sized to the room. With underfloor heating, many different points need to be considered in order to get an efficient heating system that will provide outstanding performance and be problem free.
In order to get a system that performs to that level you would expect, you need to begin with a design that considers all of the variables of your home. This is where we come in and one of the premium services we offer, designing each underfloor heating system to be tailor made for you and your home. Taking into account every important factor that can alter the effectiveness of your system, we make all necessary adjustments to provide optimum performance and satisfaction. Through talking and listening with each customers to understand your home and needs we can produce a truly bespoke system. Our quotations include a comprehensive material list so you can see exactly where your money is going and how we compare to others.
If you would like a quotation for a current project or to discuss ideas you have and how to implement them, contact us and we'll help you get started.