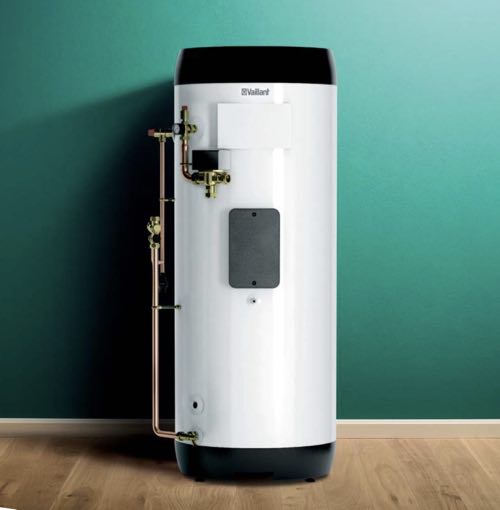 Vaillant 150L uniSTOR Pre Plumbed Heat Pump Cylinder
In Stock
The pre-plumbed uniSTOR heat pump cylinder range comes in 200, 250, and 300 litre capacities. The pre-plumbed range is designed to simplify installation and comes with fitted components for quick installation and a mounting plate for controls, all sized to accommodate the heat pump interface.
The uniSTOR cylinder is suitable for all types of property with a sealed system or open vent boiler. Being ideally suited for larger properties with multiple bathrooms, heating systems using a cylinder can often provide a higher level of hot water than a combination boiler.
Vaillant uniSTOR unvented cylinders can be used when converting from an open vented system (with a cold water tank in the loft) to a sealed system (boiler and cylinder system). Converting to a sealed system can help save space when there is no room for a tank, and often will provide higher water pressure at your taps and shower.
By upgrading an old copper cylinder with insulation jacket to a uniSTOR unvented cylinder as part of a heating system upgrade, you can make your heating system more efficient by reducing your cylinder heat losses significantly, and reduce your fuel bills.
uniSTOR Pre Plumbed Key Features & Benefits
Includes 28mm three-way valve – Allows cost saving by reducing number of valves
Supplied with expansion vessel and sensor To provide a complete system solution
Concealed cable duct – Improves aesthetics of wiring from the cylinder and controls
Thermodynamically positioned sensor pocket – Optimises system performance
Large diameter, smooth bore coil technology – Provides quiet operation, reduces build-up of scale and aids in long term efficiency through automatic descaling
Thermal injected polyurethane insulation combined with vacuum panels – Superior insulation and efficiency
Global Warming Potential less than five and ozone depletion of zero – Designed to have minimal environmental impact
Factory fitted immersion heater – Emergency backup in case of main heat source failure
Automatic air vent included – Simplifies installation
Adjustable feet – Makes on-site installation easier
About uniSTOR cylinders
The uniSTOR heat pump cylinder range has been designed to work in harmony with Vaillant heat pumps, to provide highly efficient heating and hot water systems. uniSTOR's large surface area and smooth coil design maximises heat transfer, to ensure connected Vailllant heat pumps run at their optimum efficiency, to reduce running costs and increase hot water performance.
Ranging from 150 up to 800 litres, uniSTOR heat pump cylinders are available in both pre-plumbed (150-300 litres) and standard options (150-300 litres), giving you even more flexibility. In addition to this, the 250 and 300 litre cylinders have an increased coil size making them compatible with a wider range of ground source heat pump systems.
uniSTOR cylinders also have a Global Warming Potential of less than 5 thanks to thermal injected insulation, as well as a 100% recyclable stainless steel tank with an ultra-hard-wearing outer shell, to deliver a highly efficient and sustainable heating system.
uniSTOR pre-plumbed cylinder:
200 litre
250 litre
300 litre
uniSTOR slimline pre-plumbed cylinder:
uniSTOR standard cylinder:
150 litre
200 litre
250 litre
300 litre
uniSTOR large capacity cylinder:
uniSTOR heat pump cylinder brochure
uniSTOR standard heat pump cylinder (domestic) installation & maintenance instructions
uniSTOR pre plumbed heat pump cylinder (domestic) installation & maintenance instructions
uniSTOR commerical cylinder installation & maintenance instructions
---
Typical heat pump installation setup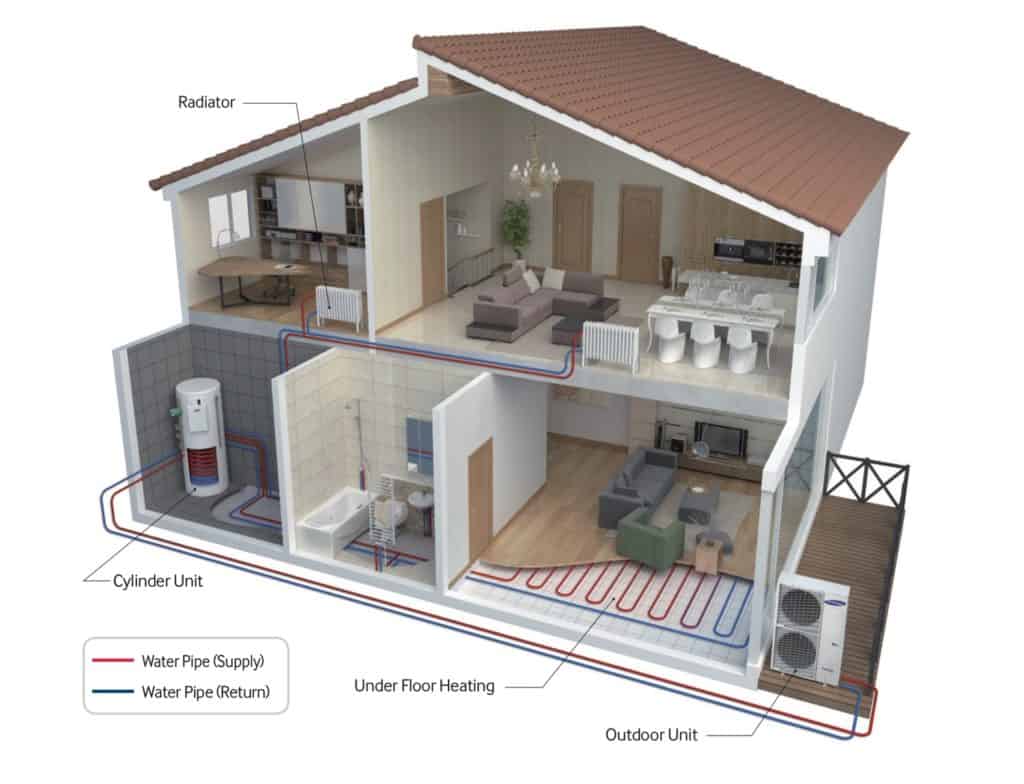 Call Our Team: 0333 939 7949
Mon-Fri: 9am-5pm