Warm Water Underfloor Heating Kits
Our "wet" and warm water underfloor heating kit components are only made up from market leading brands, recommended by trade professionals. Multi-room or single rooms kits available. Choose from Wet Screed Kits, Wet Joist Kits and Wet Overlay Kits. Read on for more help and support with each kind of kit…
Water Underfloor Heating is Versatile 
Water systems can be installed virtually anywhere, assuming the floor is well insulated and you have the floor height available to accommodate the system. Low profile overlay systems are best suited for retrofit projects. Why? Because they are so skinny and thin, they prevent floor "stacking" and buildup. That means you simply slip them underneath, or on top of existing floors. Some people dare to go it alone and renovate using wet underfloor heating systems, by doing it themselves; while other opt for the professional advice and support of trades professionals. Here at The Underfloor Heating Company, we offer the 3 main types of Warm Water Underfloor Heating Kits and the best range of accessories, parts and tools – ensuring that you will find the most suitable equipment for any type of domestic or commercial project.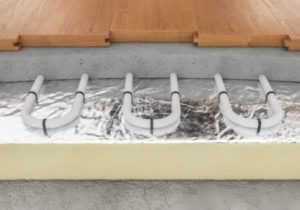 ---
Pros of in-screed wet underfloor systems:
The most common type of water underfloor heating system, and the preferred choice for new builds and extensions that comes in several variations. Main benefits include:
Best for new builds & extensions
Slower warm up times
Suitable with all floor coverings
Very efficient
Requires 19cm of floor depth to install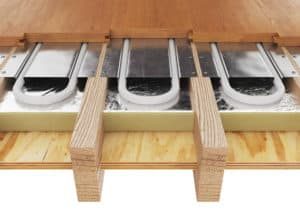 ---
Pros of joist kits – wet underfloor systems:
The preferred system over suspended floors and joists when neither the screed system or overlay system is an option. Water joist kits are a versatile option that comes in several variations:
Best for suspended & joisted floors
FAST warm up times
Suitable with all floor coverings
Can be installed in any room
Requires 7cm of floor depth to install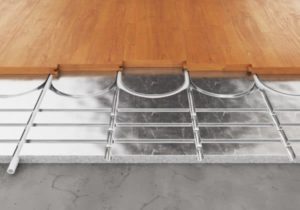 ---
Pros of overlay kits – wet underfloor systems:
The best type of underfloor heating system to choose when you want to install water underfloor heating onto an existing floor that comes in several variations, like:
Great for retro fitting over existing floors
VERY FAST warm up times
No need to dig up the floor
Tile directly onto boards – kitchens, bathrooms..
Requires 2cm of floor depth to install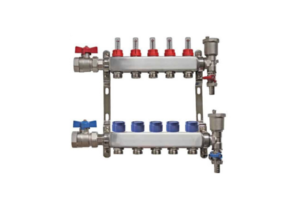 ---
Main benefits of parts and spares for water underfloor heating:
It's important to be kitted out for the job when you're installing any of the three kinds of water /wet underfloor heating systems. We also supply a wide range of tools to support the full installation to make life easy.
Manifold spares and flow meters
Separate components where you need them
Staple and pinning tools
Actuator heads
Water Underfloor Heating for Large Spaces, or Concrete
Water underfloor heating generally used for large areas with multiple rooms and full house installations, as it can be more economical and cheaper, compared to electric underfloor heating. Warm water heating can endure being a radiant source of heat slightly longer than an electric system can.
So those gains make sense in adding up over multiple rooms, in the same amount of time – compared to putting in a system for just a one or two rooms, where electric may make more sense for the flooring as the energy savings would likely be equivalent over the same time period.
The best example for warm and wet underfloor heating, is that it works well and strongly with concrete. If you're building new, it makes far more sense to use a wet underfloor system, and make that part and parcel of your new build as the central heating source.
"Wet underfloor heating means even heat distribution. And, in combination with good insulation, and where ideal, an air source heat pump – it means better sustainability.

For 2020 and beyond, it's important to have eco credentials for that home, new build or project."
How To Install Water Underfloor Heating
Opt for trades. Obviously we can't tell you how to live, and there are thousands of successful DIYers out there. Naturally, we love this industry as a whole and would prefer to say: "let your local qualified trades professional help you with this!" Their unique experiences with multiple installations is a wisdom that's worth taking advantage of.
In-screed systems are the 'daddy' of water underfloor heating. They are perfect for full spec (which is why architects can help advise you with this) for new projects, and therefore water underfloor heating is better for new builds and new extensions.
Joist systems are suitable for a mix of both purposes, new builds and retrofitting, and obviously they are a match made in heaven for suspended floors.