Water Underfloor Heating Multi Room Joist Kits
There are 2 different options of the multi room joist kits to choose from…

You've decided on the floor construction, learnt about the different fixing methods and that your project is for multiple rooms. Finally, do you need a standard output system or a high output system?
Pipe is spaced 200mm apart
Suited for well insulated rooms with standard heat loss
Can be used with all types of flooring
The most popular option

Pipe is spaced 150mm apart generating more heat
Suited for conservatories and rooms with higher heat loss
Can be used with all types of flooring
A good choice for older properties
---
We only use high quality European standard Pert-Al-Pert pipe in all our water underfloor heating systems.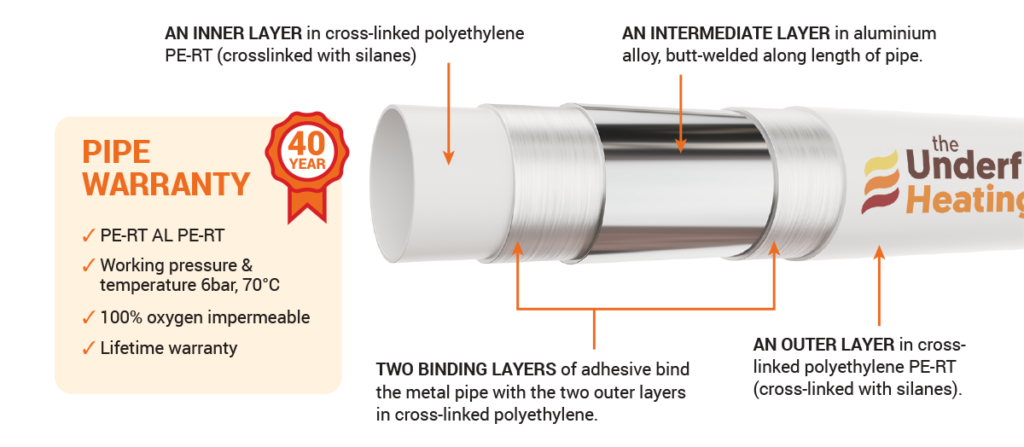 Our range of pert-al-pert pipe is manufactured to ISO9001 European standards ensuring a lifetime of outstanding performance & reliability.
Five layer 16mm pert-al-pert pipe is used in all of our warm water underfloor heating kits and offers unrivaled suitability for underfloor heating by combining the best elements of a plastic and metal pipe into one product.
The aluminium core provides strength and importantly acts as an oxygen barrier to stop the ingress of oxygen into the system causing premature wear (corrosion) to the manifold. The aluminium layer also makes the pipe form-stable, making it very easy to work with by eliminating spring back for easier installation.