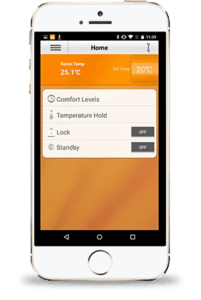 One of the newest and most up-to-date products of its kind, Heatmiser™ neoStat gives complete control over home heating.
Using the Heatmiser™ Smartphone App with the neoHub allows heating to be adjusted remotely for total control from anywhere.
The App works on both Android and iOS devices, and provides complete control over your heating system no matter where you are.
Turn your heating on before you get home so that you will be greeted by a warm house, or to turn it off after leaving if you have forgotten!
Connect your neoStats to your home's internet network through the Heatmiser neoHub. It is easy to install and does not require any new wiring, it simply connects in place of your existing thermostat.
Multiple neoStats can be installed throughout the home to allow the temperature in different zones to be controlled independently.
Extra homes or offices can also be added to the App, also with individual zone control for each property you add.