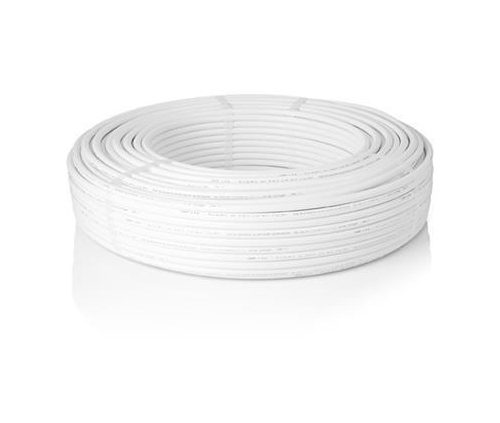 16mm Multilayer Pipe
16mm pert-al-pert multi-layer pipe is the standard pipe size used in warm water underfloor heating systems on solid concrete, suspended & floating floors. Multilayer pipe offers unrivaled suitability in underfloor heating as it combines the best elements of both plastic and metal pipe into one to give outstanding results.
The aluminium core provides strength and importantly acts as an oxygen barrier stopping the ingress of oxygen into the system which can cause premature wear (corrosion) to the manifold. The metal core dramatically improves the heat exchange from the water into the floor, something which is vastly reduced with a plastic-only pex pipe that requires far higher working temperatures and running costs to maintain. The metal core also makes the pipe form-stable and very easy to work with by elimination spring back for a simpler installation.
In addition to being easy to work with, multi-layer pipe is incredibly hard wearing and dependable. The presence of the aluminium layer means that the the pipe expands and contracts much less than existing plastic systems with thermal expansion properties similar to copper pipe, which means no sagging and far less strain put on the joints. All of which increases the lifespan and overall reliability of the installation. In addition this gives MLP a very broad operating temperature range, allowing it to function normally between -20°C and 95°C making it suitable for a variety of applications.
Display 15 Products per page