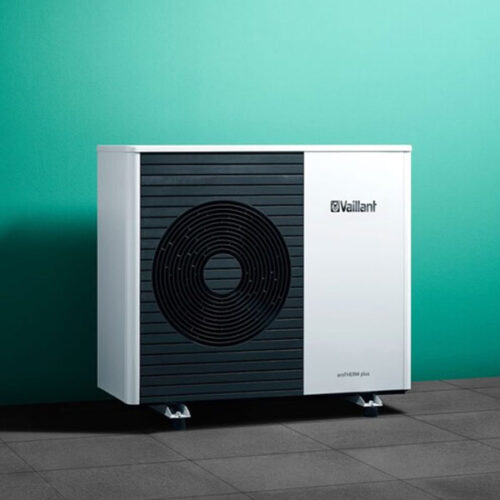 Vaillant aroTHERM plus 5kW with Hydraulic Module
In Stock
Vaillant's aroTHERM plus air source heat pump provides heating and hot water from renewable energy, making it perfect for both new build and retrofit properties that demand low running costs, high efficiency, and an environmentally friendly solution.
Offering a future-proof solution that is both powerful and environmentally friendly, the new aroTHERM plus uses the natural refrigerant R290 to achieve higher flow temperatures of up to 75°C. Suitable for all applications, this air source heat pump can use existing radiators and operates down to -25°C.
The aroTHERM plus can be tailored to the properties needs with a choice of indoor units.
In the case of higher hot water demand, the aroTHERM plus can be used together with a wall-mounted hydraulic station and a wide range of accessories, including the uniSTOR heat pump cylinders and buffer tanks.
Benefits of aroTHERM plus with hydraulic module
• Heating system components integrated within the hydraulic module
• Easy to connect to uniSTOR heat pump hot water cylinder if hot water is required. uniSTOR heat pump hot water cylinders are available between 150 and 500 litres dependant on your needs
• Can be connected to larger hot water cylinders
Products required for this solution:
1) aroTHERMplus
2) Hydraulic module
3) Hot water cylinder
4) Controls
• With the aroTHERM plus heat pump you can reduce your carbon footprint and contribute to climate protection by already meeting future building regulations
• The aroTHERM plus system is suitable for a broad range of properties with underfloor heating and/or a radiator system. Depending on the heat demand and living space of your home, it will be suitable for retrofit projects
• Designed for a peaceful home, the aroTHERM plus system has very low sound emissions: reassuring for you and your neighbours
• With sound power as low as 54dB(A) the aroTHERM plus 3.5, 5, 7 and 12 kW outputs have been accredited with the Quiet Mark.
• ErP A+++ rated with a SCoP up to 4.88, your monthly running costs for heating and hot water can be reduced by more than 10% compared to a replaced oil heating system
• Compatible with app-based controls to allow you to control your heating on the go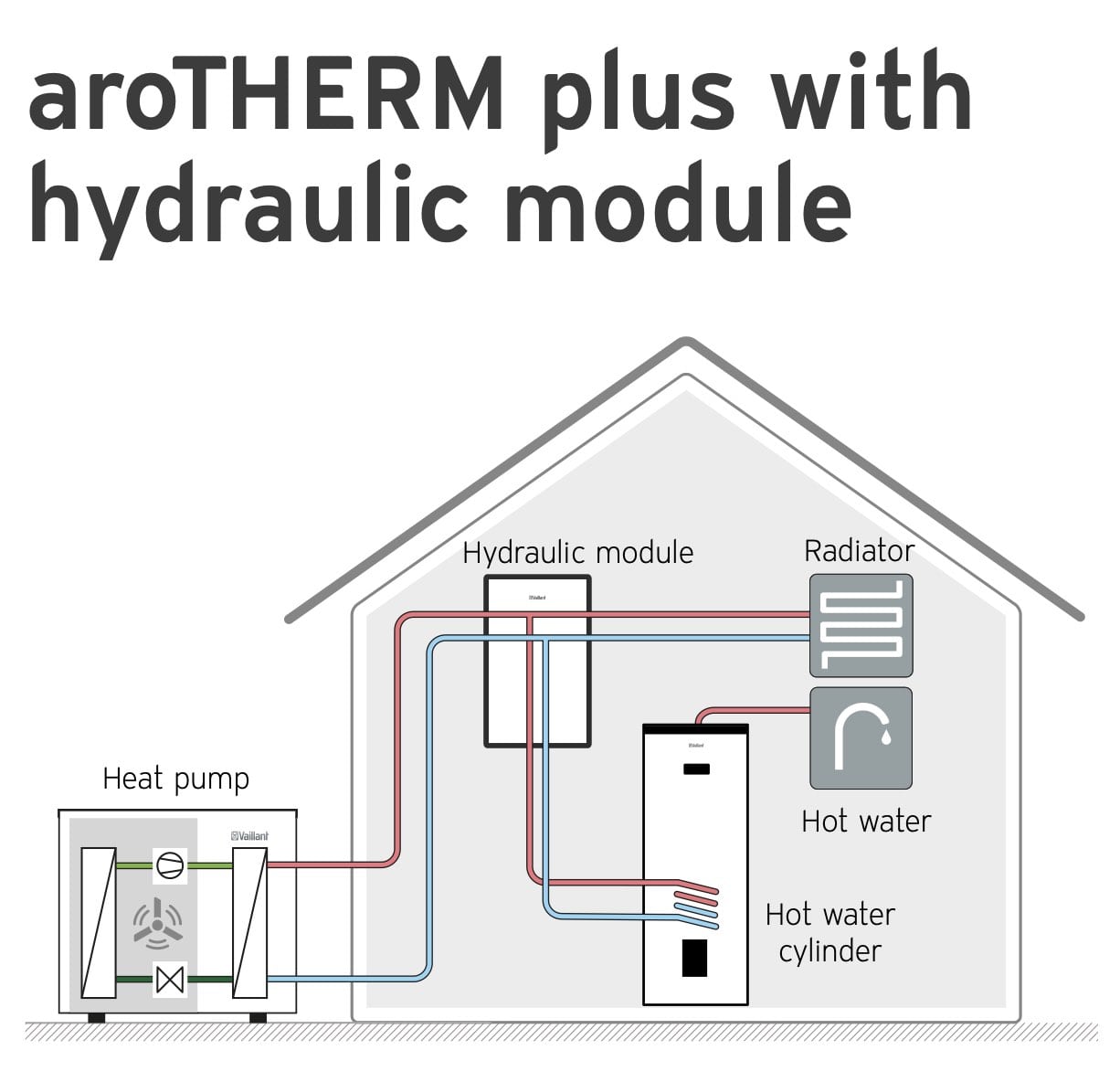 Vaillant aroTHERM plus Brochure
uniTOWER operating, installation and maintenance instructions
aroTHERM plus operating, installation and maintenance instructions
Hydraulic station operating instructions
Heat pump control interface module operating and installation instructions
---
Typical heat pump installation setup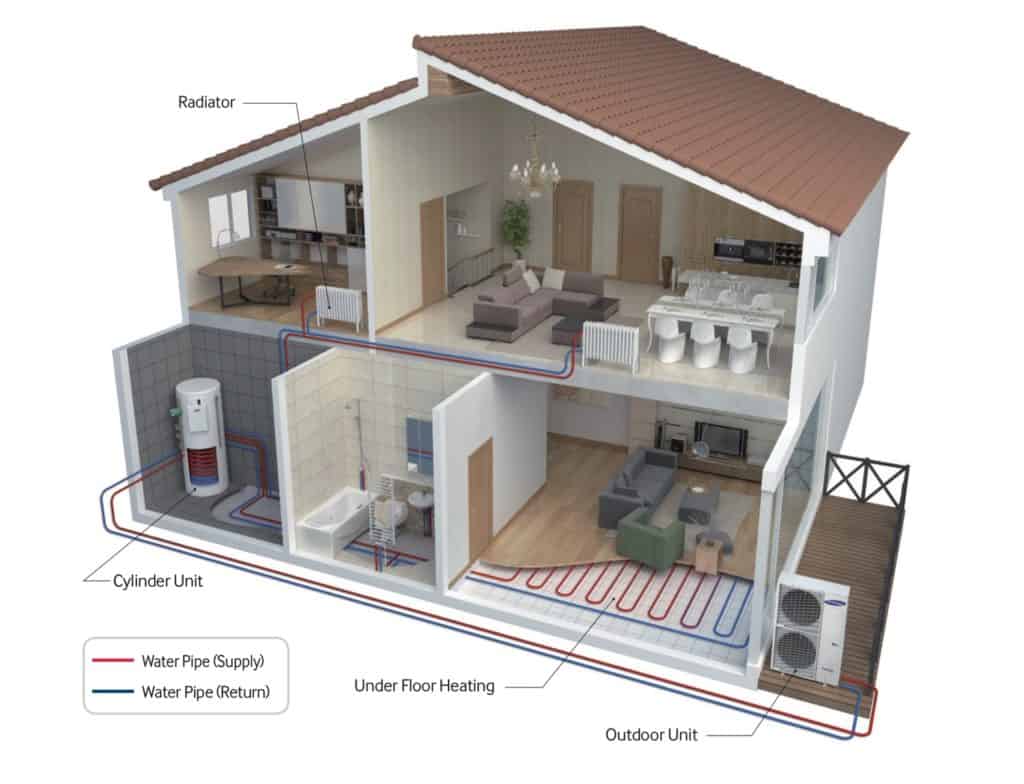 Vaillant aroTHERM plus 5kW with hydraulic module
Product number – with interface 0010037211, with hydraulic module 0010037206, with uniTOWER 0010037201
Heating nominal capacity [kW] 3.5
MCS listed SCOPs: @35°C – 4.41, @40°C – 4.03, @45°C – 3.65, @50°C – 3.37, @ 55°C – 3.10
Compressor type Rotary piston Refrigerant volume – R290 [kg] 0.6
Heating system required flow rate [l/m] 7
Hot water heating up to 75ºC
Operating temperature range [ºC] -20 to +40
Electricity supply 220-240V
Sound power [dBA] 54
Dimensions (H x W x D) [mm] 765 x 1100 x 449
Net Weight [kg] 114
Call Our Team: 0333 939 7949
Mon-Fri: 9am-5pm