Water Underfloor Heating
Warm water underfloor heating works by passing heated water through pipes set into the ground. Water underfloor heating uses either 12mm or 16mm diameter pipe depending on the type of system which is being installed and how much floor space is available. It's generally used for large areas with multiple rooms and full house installations as it is can be more economical and cheaper, compared to electric underfloor heating.
Water systems can be installed virtually anywhere, assuming the floor is well insulated and you have the floor heigh available to accommodate the system. Low profile overlay system are best suited for retro fit projects onto existing floors, while in-screed systems are better for new builds and extensions. Joist systems are a mix of both and ideal for suspended floors.
There are 3 different types of water underfloor heating systems to choose from…
The most common type of water underfloor heating system and the preferred choice for new builds and extensions that comes in several variations.
The preferred system over suspended floors and joists when neither the screed system or overlay system is an option that comes in several variations.
The best type of underfloor heating system to choose when you want to install water underfloor heating onto
an existing floor that comes in several variations.
---
We only use high quality European standard Pert-Al-Pert pipe in all our water underfloor heating systems.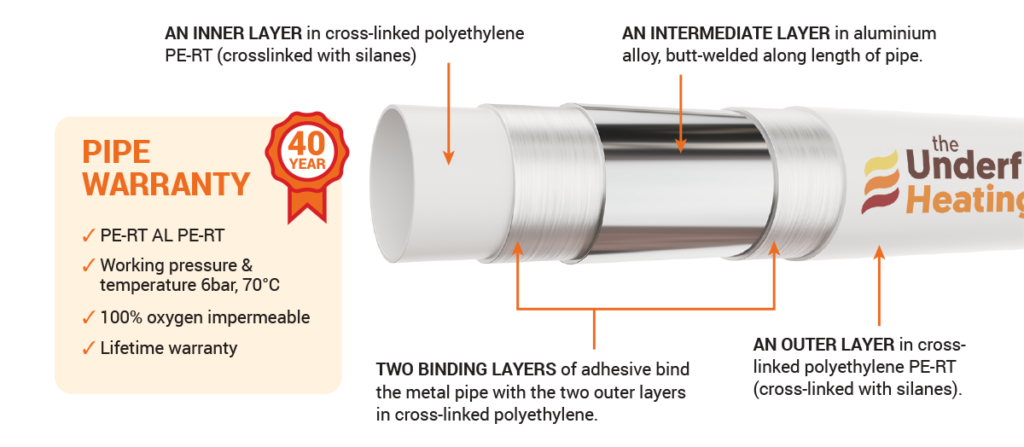 Our range of pert-al-pert pipe is manufactured to ISO9001 European standards ensuring a lifetime of outstanding performance & reliability.
Five layer 16mm pert-al-pert pipe is used in all of our warm water underfloor heating kits and offers unrivaled suitability for underfloor heating by combining the best elements of a plastic and metal pipe into one product.
The aluminium core provides strength and importantly acts as an oxygen barrier to stop the ingress of oxygen into the system causing premature wear (corrosion) to the manifold. The aluminium layer also makes the pipe form-stable, making it very easy to work with by eliminating spring back for easier installation.